OptiNum 3D Scanner
NTS Inc. chooses to cooperate with the French company Noomeo, which develops and industrializes innovative products in the field of the artificial vision. Therefore, NTS Inc. becomes distributor of the OptiNum, ultraportable 3D scanner and NumiSoft, associated software solutions.
With its innovative features, OptiNum avoids many tasks such as preparing documents, laying pellets targets, and no experience required. Thus, OptiNum opens the way for many fields of applications while ensuring a high level of accuracy.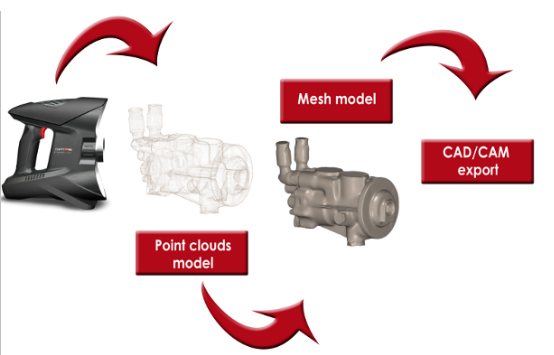 Advantages of 3D scanner OptiNum of Noomeo
Ease of use:
Ultraportable and easy to use, OptiNum offers its user the ability to scan anywhere without any external power constraints or heavy and complicated deployment difficulties.
Ultraportable and autonomous:
OptiNum weight 1.8 Kg (3.96 lb.) and is very compact. Working on battery it does not require any power cable and must simply be connected to a laptop to be operational in any kind of environment.
Processing speed:
Thanks to many technology developments facilitating image processing, registration and real-time visualization, OptiNum offers the user significant time savings for 3D scanning and modeling.
No preparation:
Scanning with OptiNum does not require laying stickers, targets, or any other space positioning equipment. This competitive advantage derives from our technology based on digital image processing.
Industrial accuracy:
The high quality CCD cameras allow OptiNum to generate point clouds with accuracy up to +/- 50µm (0.002 in) with recommended object volume from 1cm³ (0.6 in3) to 1m³ (35.3 ft3). OptiNum is well suited industrial requirements, as well as to the heritage and paramedical needs.
Application:
OptiNum is used for industrial applications such as manufacturing, automotive, and aerospace. Various applications provided by OptiNum are the following:
Reverse engineering
Non-destructive control
Inspection
Rapid prototyping
Maintenance / repair
...etc...
| | | |
| --- | --- | --- |
| | | NumiSoft is the acquisition software coming up with the OptiNum offering. As a result of the scanning process, OptiNum creates point clouds or meshes representing the 3D model. Its user friendly interface allows you to quickly access the contents of your scans in 3D and exports them to your usual CAD-CAM tool. |
Scanner Management
Advanced process design tools
Creation of 3D point clouds
Automatic registration of clouds
Cleaning and filtering the points
Optimization of points
Automatic meshing
Export to ASCII and XYZ point clouds
Export to STL format for meshes
| | | |
| --- | --- | --- |
| | | In addition to NumiSoft, NOOMEO offers NumiSoft +. It allows you to work directly on 3D point clouds and meshes models to modify, improve, and export them as often as desired. The 3D models are then usable by all known market CAD software and for any use of such digital model, rapid prototyping, etc... |
Import / export point cloud and in ASCII XYZ
Import / export meshes to STL and OBJ
Advanced mesh
Networking with preservation of edges
Changing and cleaning of point clouds and meshes
Plugging holes with preservation of curvatures
Topology "Non-Manifold"
Inspection: measurement of relative distances
Comparison: color cards distances points / meshes
For more information, read the following brochure:
Brochure